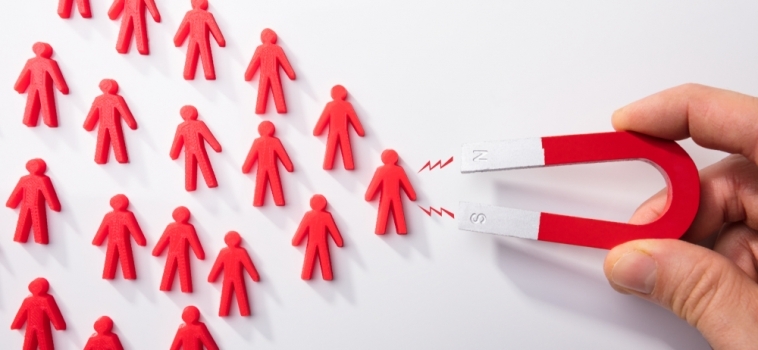 Savvy business owners and marketers understand the power of being aware of the buying journey their customers take, and how to help them progress through each of the stages.
Move along, please!
Although each of your customers is likely to have a slightly different buying journey – (i.e., with different requirements, levels of knowledge, experiences, and so on)– it is recognised that the underlying pillars of the journey (each station on the journey, if I may) remain the same.  Some might rush through; others might take a bit longer.  Although the customer journey is not linear for some clients, from a marketing point of view, it is your job to make it as easy as possible for people to buy from you.  So, the objective is to make this journey as smooth as possible.
Many different models, from many different experts have been developed to help document the customer journey and record it as a process, which can then be used as a tool for business owners.
I like the simplicity of the one below, so I will share each step with you and give some practical ideas to help you keep clients on the train and moving closer to first purchase and beyond.
The five stages of the customer journey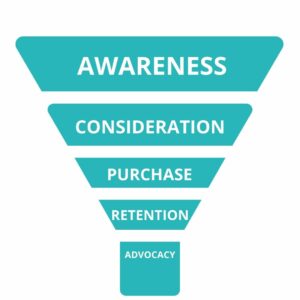 Awareness
To do business with you, a person needs to know that you exist.  They also need to know that they have a problem that needs addressing.  In the case of Will-Writing, we have two jobs to do – firstly, to raise awareness of the need for people to have a Will (at the very least!)  and consider their estate planning and secondly, that they should use our business.
The buyer may be starting to become aware of the need for a Will, so providing educational information at this stage is an excellent way to help you get on their radar.
The tools to use to build awareness would include:
Advertising
Networking (a great place to share stories!)
Sponsorship
Talking at events
Social media – share blogs, stories, useful info, show that you are friendly and approachable.
Provide informational resources
Website – The Estate Planner's Toolkit provides a range of information that you can email to clients or use on your website as a download. The explainer leaflets and videos are informative and easy to understand. They will promote your core services and educate the potential buyer.
Consideration
This is when your potential client is now aware they need your services, and they are aware of your business, and they are deciding whether to go ahead or not.  They 'know' you, but now they need to feel they can trust you in order to move forward with the purchase decision.
There are many ways that you can build trust with your audience, but the underlying tools here are:
High-quality marketing materials and branding that reflect your professionalism
Consistent marketing messages
Reviews and testimonials
Case studies
Informational resources
It is essential that your marketing is of a high quality.  Whether it is online or printed, as a service business, your branding and documentation are your shop window.  You can't show them someone else's Will and say how good it looks!
Additionally, as you know, trusting you to write their Will is for many a big decision. It is an honour to be given this responsibility, and they need to believe they can trust you to ensure their final wishes are going to be carried out.
Whether we like it or not, the image we portray is how we will be judged – so make sure all of your marketing materials and messages are of a high quality and reflect your professionalism.  This way, you will build trust with your audience, and as they consider their purchase decision, your position will be one of authority and authenticity.  The trust is being built.
Purchase
Once the buying decision has been made, my advice is to make it as easy as possible for people to buy from you.  The easier it is, the more likely they will go ahead and make that purchase.
Tools to use here include:
Online calendar booking system
Efficient and effective first meeting agenda
Impressive follow-up – Timely
Quality resources such as information sheets and explainer videos
Easy ways to sign client contracts and pay for your services
Don't forget though, that some people still like to book by phone even if there is an automated booking system so make sure you have an easy to find phone number on your website and advertising and follow up calls promptly.
There are of course, people who still prefer paper contracts and want to pay by cheque, so make sure you can still meet these needs too.
Retention
This is about keeping the customer beyond the first purchase.  For us, as Will Writers and Estate Planners, we are not really a frequent purchase operation – it's not like people want a Will every week – however people do often need to update their Will or buy additional services such as Lasting Power of Attorney or other Estate Planning services you may offer.  It is therefore important that you keep in touch with your clients.
I find the best tools to use for this include:
Asking for feedback including providing links to Google, Facebook and Trustpilot
Organic Facebook posts
Email marketing – Keep your clients up-to-date and share relevant news and stories.
Two-year review – It shows your customer you care, and can lead on to more services being purchased
Advocacy
The final destination on the customer journey (and don't forget it is not always straightforward and linear) is advocacy.  This is brilliant if you can reach this point.  This is where your existing customers refer you to others.  It is gold dust.  The reason being, if someone has referred you, you are already trusted if the potential customer trusts the person who referred you.
Advocacy could also be encouraging people to share your posts on social media.  It is about people who believe in you so much that they want to tell others about you.
Tools to encourage advocacy would be:
High quality marketing information to share with potential referral partners
Shareable social media posts
Thanking people for referrals (I love to send a small gift or hand-written card)
Asking for online reviews from each satisfied customer
I hope you have found this blog helpful.  The Estate Planners Toolkit provider Will Writers and Estate Planners with a wealth of high-quality marketing resources made bespoke with your logo.  Please book a demo and I will explain how I use them to help me grow my Will Writing and Estate Planning business, or find out more and order yours here.